If you're a nature lover, there is nothing better than a hotel under the sea. There is no need to be a diver to enjoy the magic below sea level when you stop by these incredible underwater hotels. Staying at underwater hotels used to seem like a sci-fi fantasy or something you could only imagine if you had read Jules Verne's novels. However, it can indeed be a reality today. While some amazing underwater hotels are under construction and we may not be able to use them for now, but if we had an opportunity, we would be able to stay in unique hotels with underwater rooms and clubs and eat at restaurants all around water.
Undersea hotels exist worldwide, offering unique accommodations that let you sleep near marine life. Whatever your favorite watery novel is, these underwater hotels will transport you to another world. Without having to leave your hotel room, you'll be surrounded by the finned and scaled animals you love so much. These hotels offer a wide range of bedrooms, suites, and even submarines, all of which are partially submerged. The majority of hotels are available for booking, although some are still being worked on. The cost of a single night can range from $250 to $250,000. However, the unbeatable views and the bragging rights you earn while sleeping with the fish are worth every penny.
#1

Atlantis the Palm (Dubai, UAE)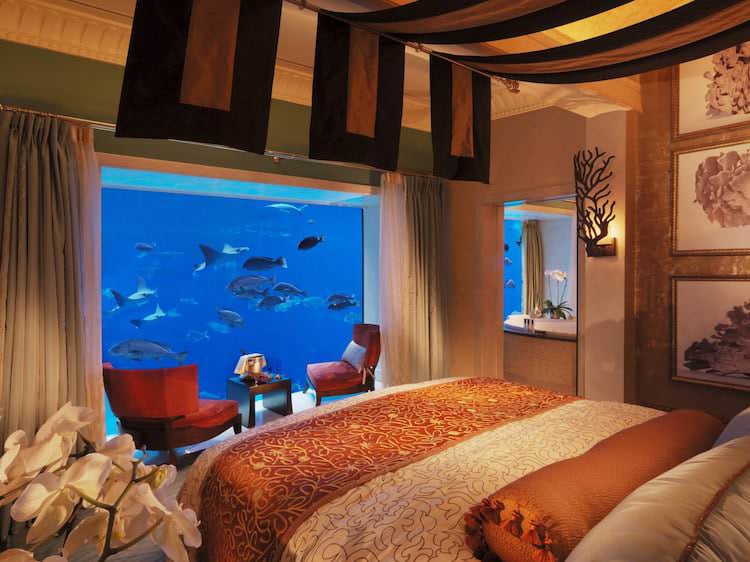 Atlantis the Palm in Dubai's Underwater Suites are a lesson in luxury. From your bed you can see marine life thanks to the enormous floor-to-ceiling windows. In addition to being named after the gods of the sea, Poseidon and Neptune suites come with 24-hour butler service. Despite being above sea level, guests stay in suites with views of ambassador lagoon's 65,000 marine animals.
#2

Resorts World Sentosa (Singapore)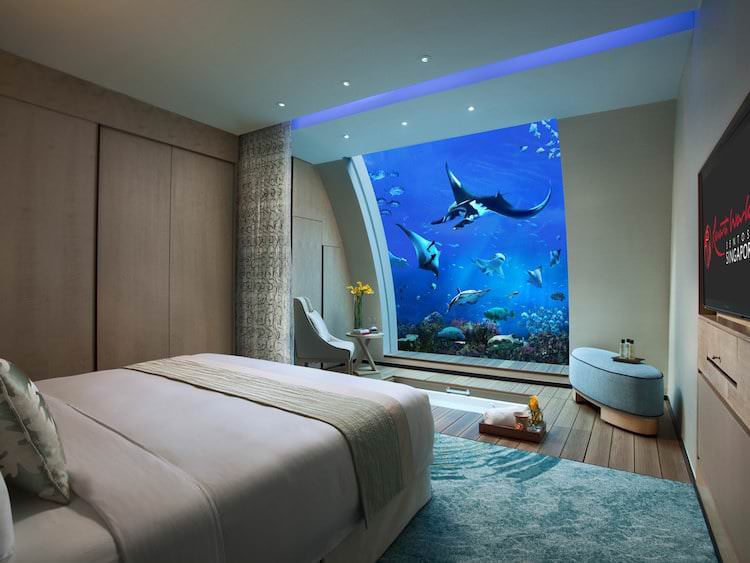 There are 11 Ocean Suites at Resorts World Sentosa in Singapore built as two-story townhouses. The suites are divided into land on the upper level, living area, and sea beneath, sleeping chamber, offering the best of both worlds. Take in the view of the world's largest aquarium while your butler caters to your every need.
#3

Manta Resort (Tanzania)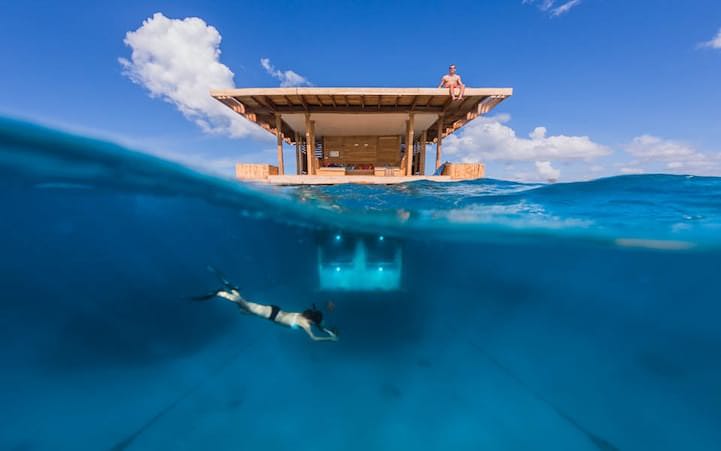 Manta Resort is situated on Pemba Island, which is part of the Zanzibar archipelago. In addition to providing panoramic views of the Indian Ocean and African coast from above, the floating hotel offers a unique view of the ocean floor from its sunken rooms below. Relaxing in the ocean has never been easier since each room is 13 feet below sea level.
#4

Hilton's Conrad Rangali Island Resort (Maldives)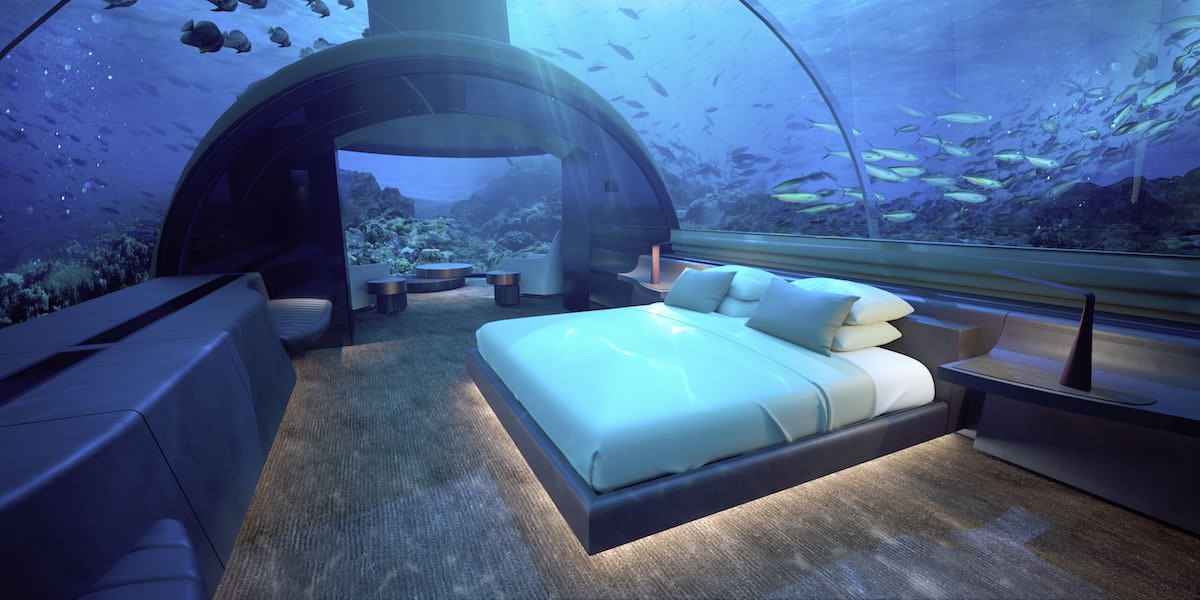 A deluxe villa with a private pool opened at the Rangali Island Resort in late 2018. There are nine beds in the Muraka, and it is equipped with luxury touches to make your time in the Maldives even more memorable. This two-level structure has a lower level sunk 16 feet below sea level with a master suite, bathroom, and living room. A gym, butler's quarters, security quarters, second living room, kitchen, bar, and deck top off a relaxing stay for you and your guests.
#5

Reefsuites (Queensland, Australia)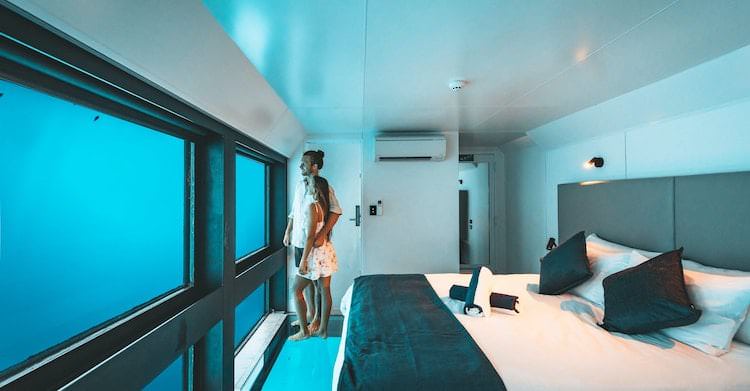 The Reefsuites are Australia's first underwater accommodations on the Great Barrier Reef. Offered to day-trippers who want to experience Queensland's Hardy Reef, the pontoon is situated 40 nautical miles from Airlie Beach. There are rooms available on the pontoon, but only a lucky few will be able to descend underwater for the evening. Guests can wake up to the view of marine life from two underwater rooms. A scenic cruise and a semi-submersible tour are both included in the stay package.
#7

Utter Inn (Vasteras, Sweden)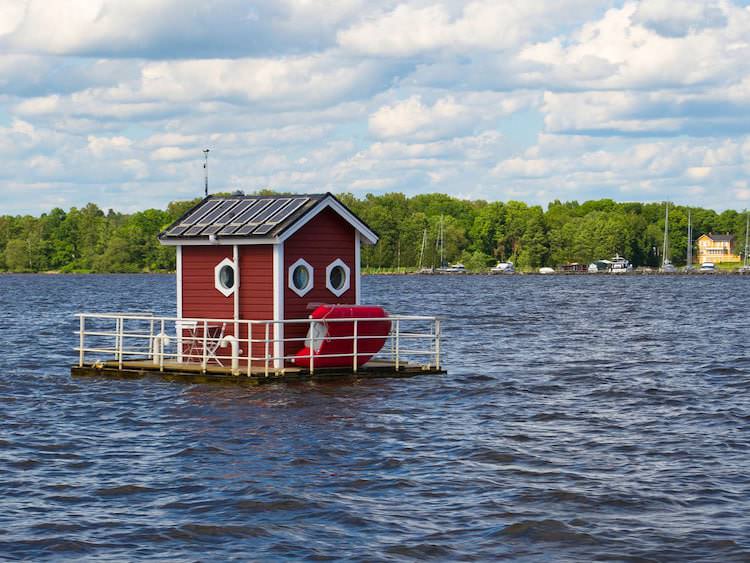 Can't afford the steep price of sleeping underwater? A quaint underwater cabin in Sweden might be the perfect solution. Although Utter Inn looks like a typical Swedish house afloat, a small bedroom lies buried about 10 feet under the surface. It was designed by a local artist. At just $250 a night, it makes a great weekend getaway.
#8

Jules' Undersea Lodge (Key Largo, Florida)
Jules Verne is aptly named after another, slightly more budget-friendly option. Undersea Lodge Jules' is actually the oldest underwater hotel on the planet. It is located off the coast of Florida. Visitors who are willing to scuba dive 21 feet down into the main foyer will love this former research center. Within the resort, the cozy rooms are great for couples, and you can even hire a chef to cook for you while you scuba dive.
#9

Bambu Indah Hotel (Bali, Indonesia)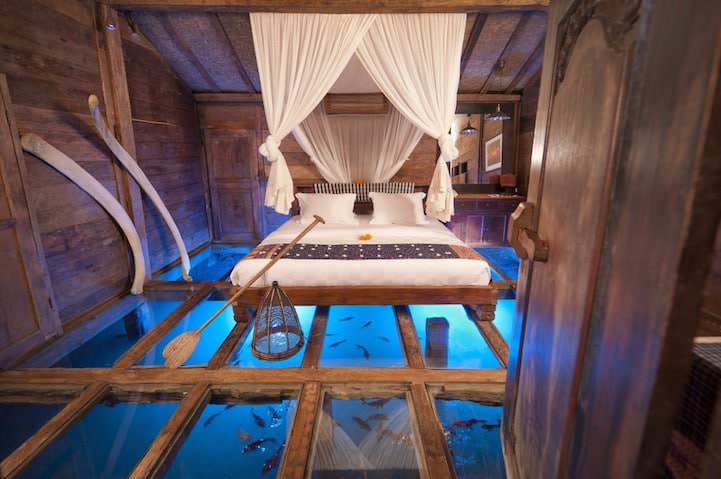 Despite not being underwater, the Bambu Indah Hotel in Bali is so amazing from its Udang House that we just had to include it. During the day, you could spend hours lying in bed watching tidal activity in the shrimp pond, which the house was built on. Due to COVID-19 travel restrictions, the hotel is currently closed, but hopefully it will reopen soon.
#10

InterContinental Shimao Wonderland (Shanghai, China)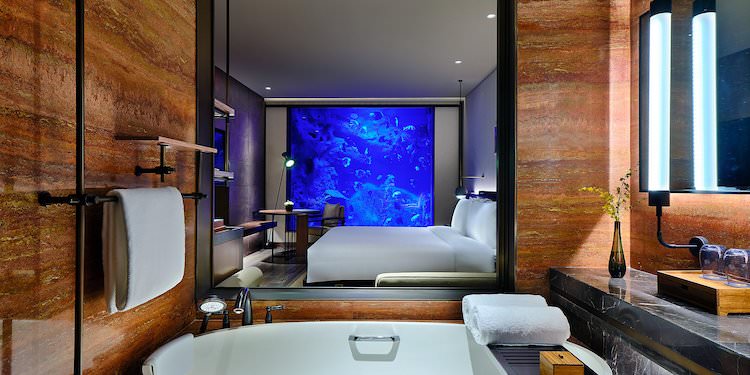 The InterContinental Shimao Wonderland, located close to Shanghai, finally opened to the public in late 2018 after a decade of construction. Architects Atkins Design built the futuristic, luxury accommodations into the side of a quarry. The 370-room hotel includes two underwater levels holding a restaurant and guest rooms. There is an artificial waterfall on site and guests are encouraged to partake in water sports in the hotel's large sports center.
#11

ATLANTIS, THE PALM, DUBAI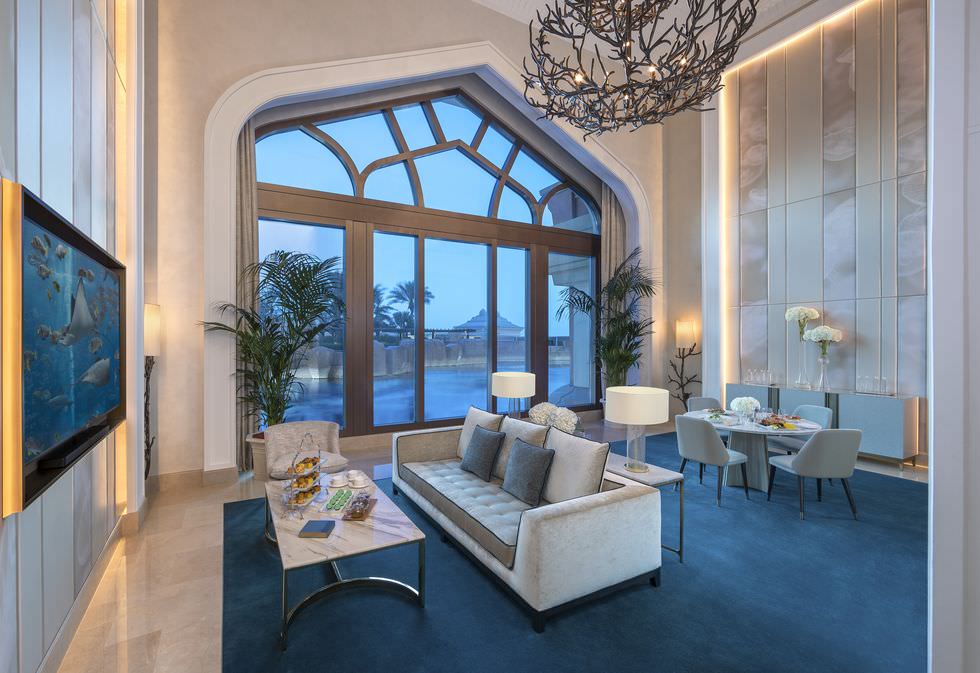 The Underwater Suite at Atlantis, The Palm is one of the most iconic underwater hotels. From the master bedroom, you can see the Ambassador Lagoon aquarium from floor-to-ceiling windows. The apartment is almost 1,800 square feet and has three stories. A private chef and butler are provided as well as 24-carat gold soap as part of the Underwater Suite.
#12

THE APURVA KEMPINSKI BALI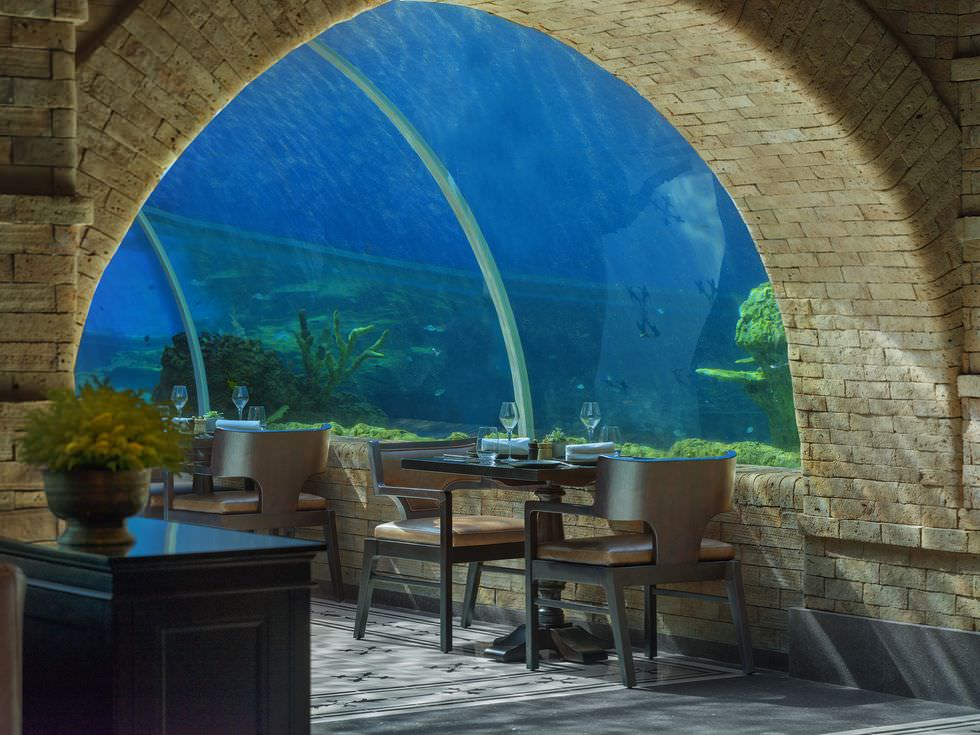 At its restaurant Koral, the five-star Apurva Kempinski Bali introduced the island's first underwater dining concept in November. Bali's tropical characteristics are reflected in the design, which includes local touches such as teak wood ceilings and traditional red clay brick walls. The property features lush gardens, infinity pools, and a white sand Balinese beach.
#13

THE GATES HOTEL & 24 NORTH HOTEL, FLORIDA KEYS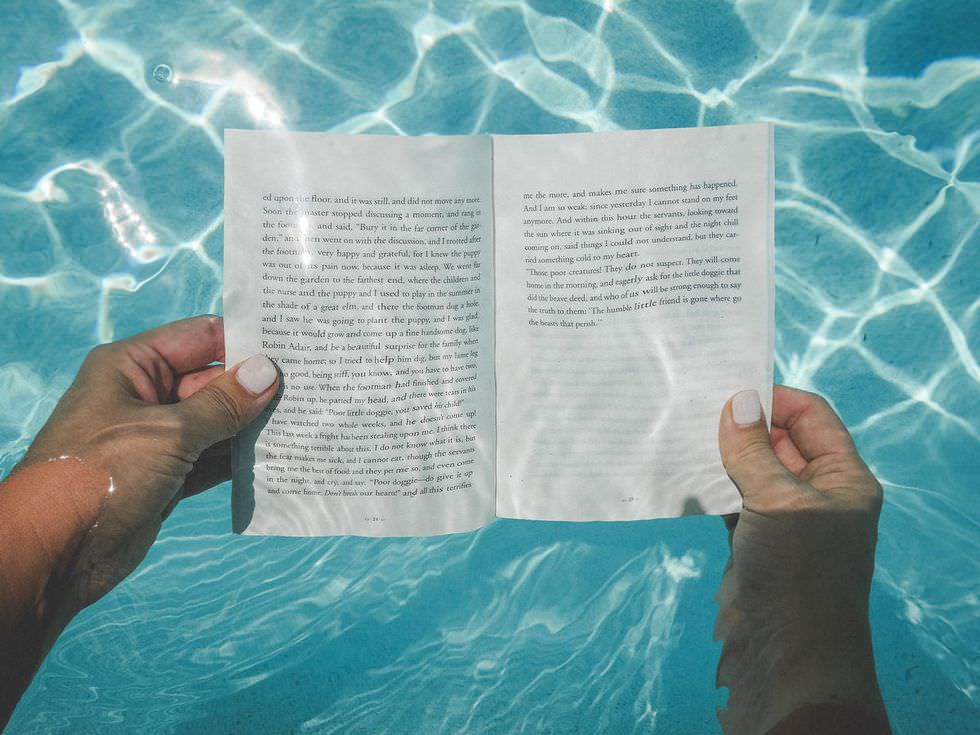 You won't find this under-the-sea amenity in a gilded suite. You can borrow books from the underwater library at both The Gates Hotel and 24 North Hotel in the Florida Keys. Their collection includes classics like Shakespeare's Macbeth, W.B. Yeats' Cloths of Heaven, and a collection of Mark Twain short stories.
#14

INTERCONTINENTAL SHANGHAI WONDERLAND, SHANGHAI, CHINA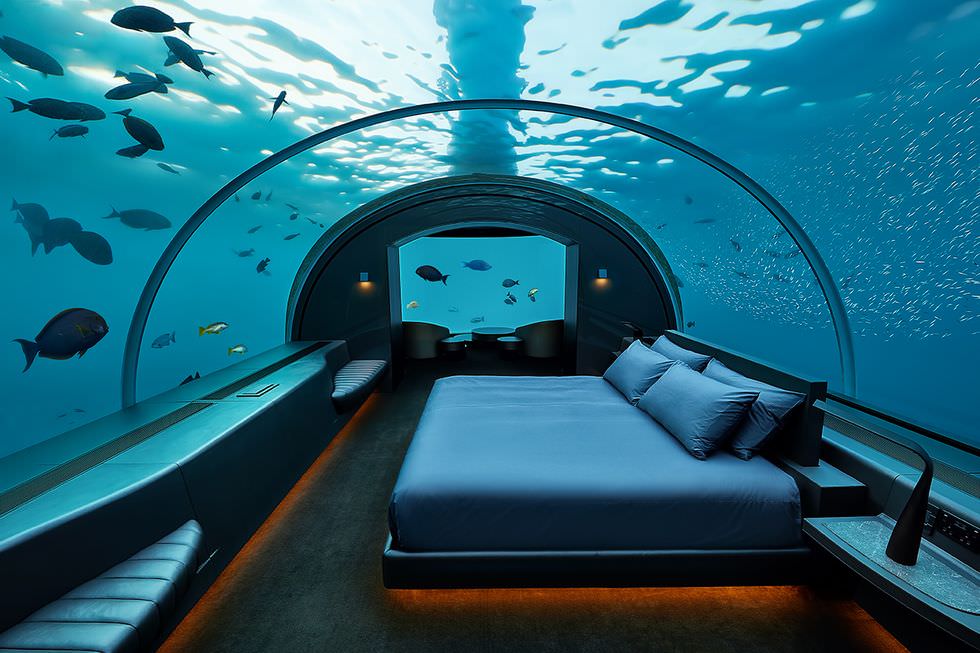 The hospitality group decided to build the 200th InterContinental hotel into the side wall of an abandoned quarry in southwestern Shanghai. Its pioneering architectural design earned the Quarry Hotel a spot among the architectural wonders of the world on National Geographic Channel's MegaStructures series. A 16-story underground complex featuring underwater lofts on two levels and underwater bedrooms enclosed in turquoise aquariums where guests can watch fish swim by while they sleep.
#15

THE MALDIVES, RANGALI ISLAND
As with most of the rooms at the Conrad on Rangali Island in the Maldives, interested parties must fill out a form in order to make a reservation. A two-story, 16-foot-deep residence, the Muraka Suite hovers out over a long dock, like a floating island. If you need a break, you can rent jet skis, relax on the deck with your own pool, or call your personal butler 24 hours a day.
#16

PONANT EXPLORERS FLEET

French architect Jacques Rougerie specializes in underwater habitat design built this hotel, a special aqua acoustics system captures the sounds underwater, and body-sensing sofas discreetly vibrate in harmony with the listening. The rest of the boat is next. Known more for its yacht experiences than traditional cruise ships, Ponant is the only cruise line that flies the French flag. A true French luxury brand, on-board amenities include spa treatments by SOTHYS, treats by Ladurée, and menus carefully curated by Ducasse Conseil, Alain Ducasse Enterprise's expert consulting arm.
#17

RESORTS WORLD SENTOSA, SINGAPORE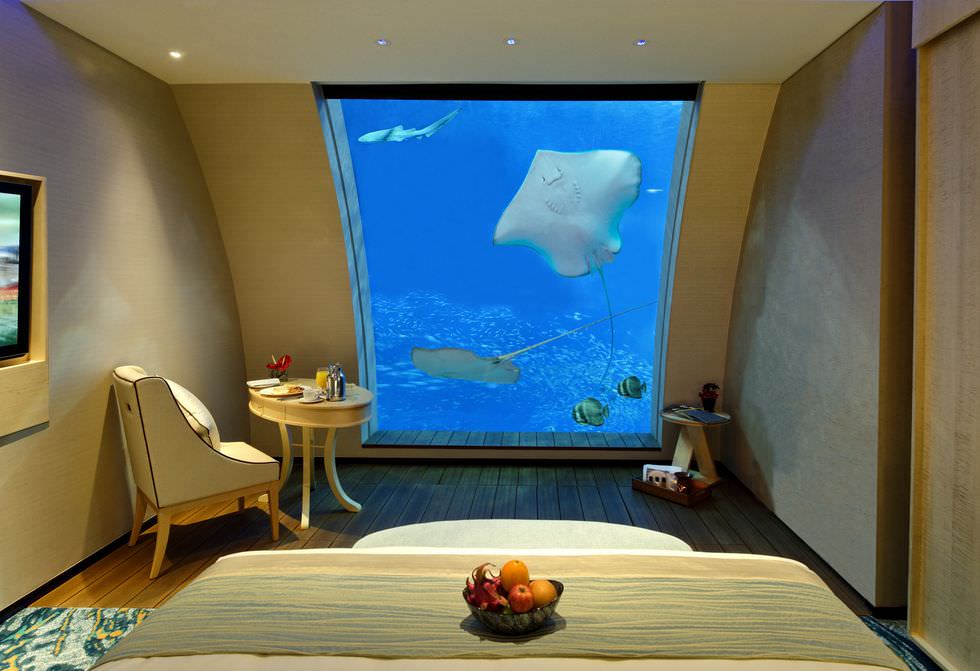 The resorts world sentosa in Singapore features 11 two-story guest suites that surround the SEA aquarium, one of the largest in the world. Over 40,000 marine fishes can be viewed underwater. Additionally, guests can relax in a warm bath while gazing out at sting rays and tropical fish. This is in addition to the five-star luxury amenities and butler service that come with life under the sea.
#18

WESTIN PUNTACANA RESORT & CLUB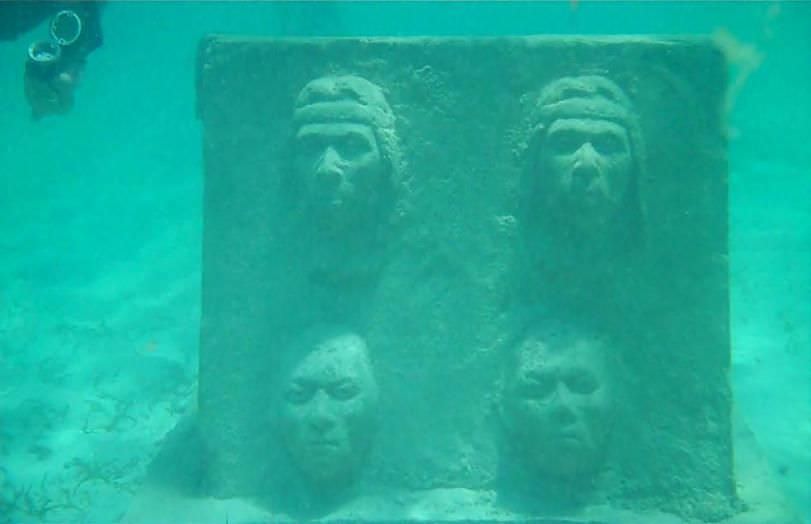 There is an underwater museum inside the Ecological Preserve that features almost a dozen monuments that depict Dominican legends. This is one of the perks of staying at the Westin Puntacana Resort & Club. Guests of the Westin Puntacana Resort & Club can snorkel or drive to see this unique historical underwater site.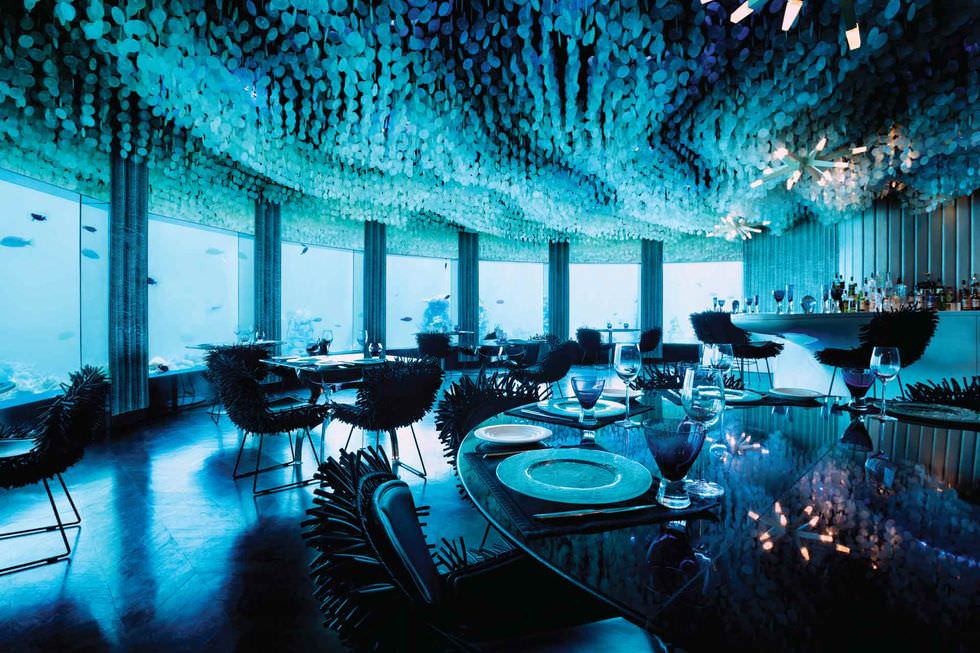 A subaquatic lunch menu and underwater glow parties are just a few of the things that await you at Subsix, The Aquum's underwater playground. The place has a glam vibe and aesthetic, with Italian chandleries and a three-tier stair case. Poole Associates redesigned this underwater playground in 2012, so you can get married or watch sharks from a bar stool or from your table.
#20

LOVERS DEEP, ST. LUCIA